Organic Phosphorus (Thyla-P)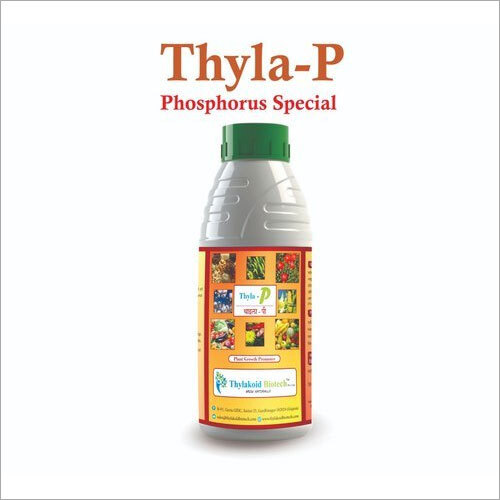 Organic Phosphorus (Thyla-P)
Product Description
Composition:
Phosphorus - 13 to14%
Protein Hydrolysate - 40%
Nitrogen - 5 to 6%
Organic carbon - less than 50%
Other Nutrients -1 to 2
Benefits:
Address the Phosphorus deficiency in all crop.Promote the development of healthy primary roots and their subsequent branches.
Ehance flowering and increase and increase fruit and seed productionEffective of the healthy crop production and higher yields.
Help in the photosynthesis and respiration- completely biodegradable and improve soil health.
Application Dosage:
Foliar application 2-3 ml/ Liter of water
Drip Irrigation 1-1.5 liter/Acre
Recommendation
It is recommended for vegetables, fruits, wheat, maize, paddy, cotton ,cereals, horticulture crop and all other crops.
2). Thyla-Wonder Plant Growth Regulators
Thyla- wonder : used forSoil Diseases Prevention.
Composition: Herbal preparation extract - 100%
Benefits:
Saves water by improving eater penetration and reduce the salt in the water.
Develop root zone to preserve the root disease and other soil borne disease.
Increase speed of breakdown of biodegradable chemicals in soil.
Reduce the weed pressure due to improved nutrient balance, reduction of anaerobic black layer, and improved oxygen-carbon dioxide level in soil.
Application Dosage:
Application Dosage : 60 ml/ acre
Product details
| | |
| --- | --- |
| Is It Environment Friendly | Environment Friendly |
| Packaging Type | Bottle |
| Packaging Size | 1 liter |
| Is It Organic | Organic |
| Product Type | Plant Nutrients organic phosphorus |
| Form | Liquid |
| Brand | Thyla-P |
Contact Us
B1/B2/B3-17, GIDC, Sector-25, Gandhinagar, Gujarat, 382024, India
Phone :+918037696165